Learn about Alignment Services
at Paul's
How to Tell if You Need a Wheel Alignment 
Wheel alignments are necessary routine maintenance to ensure that your suspension is operating correctly. Wheel alignments help to improve handling as well as increasing your tires' longevity by having them wear evenly. At Paul's Motors Sales and Service, Inc. in Hawthorne, NJ, we serve Ridgewood, NJ, and beyond by offering expert wheel alignment services.
With our advanced equipment and expertise, wheel alignments are done right the first time and completed promptly. Here are some common red flags that may indicate that you need a wheel alignment:
Vehicle Pulling

If you feel that your vehicle is pulling to the right or left, your suspension may need correcting. This can also be seen if your steering wheel is off-center when driving straight. A wheel alignment can ensure that your vehicle stays on its intended path when driving in the Wyckoff, NJ, area.

Uneven Tread

When you inspect your tires, you may notice that there are areas that more worn than others. This could be due to your wheels being out of alignment.

Steering Wheel Vibrations

Vibrations in the steering wheel could be the result of your vehicle's suspension needing correcting or your tires having uneven tread. Either way, bringing in your vehicle for a wheel alignment may be the solution.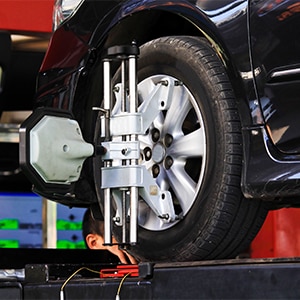 What Goes into a Wheel Alignment?
Three factors go into a wheel alignment: camber, caster, and toe. Each is a different perspective of your wheel in relation to your vehicle. Our expert technicians ensure that your wheel is perfectly center from every perspective so that it functions at its best.
Why Schedule a Wheel Alignment?
Proper alignment and tire inflation helps you get better gas miles. Putting off a wheel alignment can lead to your tires wearing out prematurely, which can be easily avoided. It also makes for worse handling, which can be inconvenient at best and dangerous at worst. Keep your vehicle and tires in excellent shape by scheduling wheel alignments regularly.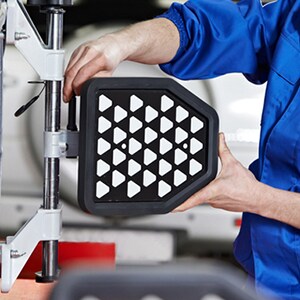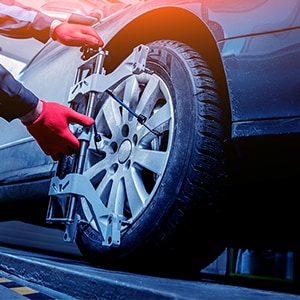 Additional Services Available Near Franklin Lakes, NY
Our team specializes in Volvo service, repairs, and parts. If you own a Volvo and want to ensure that it gets speedy, high-quality service that is performed correctly the first time, then schedule an appointment with us for your convenience and peace of mind.
Contact Our Service Center to Schedule
If you think it's time for your next wheel alignment, contact us today. We will make sure that your vehicle's suspension is functionally properly and your performance is in peak condition. Schedule an appointment today for a wheel alignment in Hawthorne, NJ!
SCHEDULE SERVICE
Hours
Monday

9:00AM-5:00PM

Tuesday

9:00AM-5:00PM

Wednesday

9:00AM-5:00PM

Thursday

9:00AM-5:00PM

Friday

9:00AM-5:00PM

Saturday

By Appointment Only.

Sunday

Closed